TP-Link TL-WR941ND OpenWrt Chaos Calmer 15.05 firmware
Sonntag September 13, 2015 0 Comments
RZ
Wie mit jedem neuen Release erspare ich den Benutzern der Router TP-WR941ND Version 5.1 von TP-Link ein wenig Arbeit und stelle die neuen Versionen der freien Firmware OpenWrt für eine Installation oder einem Upgrade zur Verfügung.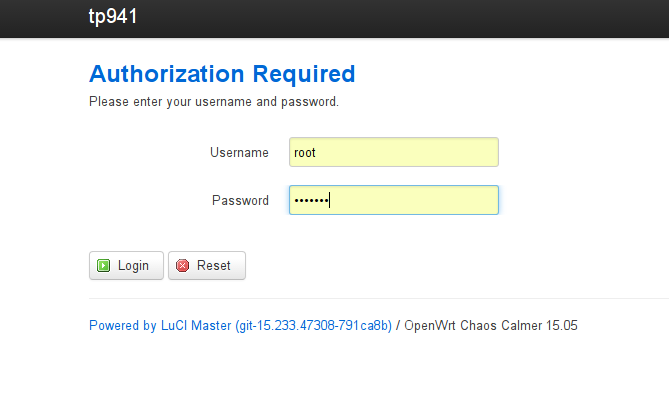 Der Wlanrouter TP-Link TL-WR941ND und die Firmware OpenWrt in der Version Chaos Calmer 15.05 lassen sich nicht ohne weiteres zusammenbringen, da leider keine Images vorhanden sind. Hier muss man die auf dem Modell  TL-wr841nd v8 basierenden nehmen und mit einem Hexeditor bearbeiten. Detailierte Informationen hierzu bietet der Blogeintrag TP-Link TL-WR941ND OpenWrt Barrier Breaker 14.07 firmware .
Download von Github der TP-Link TL-WR941ND OpenWrt Chaos Calmer 15.05 firmware per Browser, oder per git:
git clone https://github.com/seraphyn/TP_Link_WR941_ChaosCalmer_Got-tty.org.git
md5sum -c md5sum
05c7d089bb71760bb791cb900d790e06 openwrt-15.05-ar71xx-generic-tl-tp941-v51-squashfs-factory.bin
13b7acce5935aae574918f45773bdef9 openwrt-15.05-ar71xx-generic-tl-tp941-v51-squashfs-sysupgrade.bin
Für die Installation und das Upgrade sollte die Anleitung auf openwrt.org für dieses Gerät befolgt werden.
Ein sysupgrade ist nach vorherigen Backup über LuCI möglich. Eine Installation direkt über die Oberfläche von TP-Link war damals ohne Komplikationen bei mir möglich.
Changelog openwrt.org 15.05 Chaos Calmer:

** Highlights since Barrier Breaker **
* Linux kernel updated to version 3.18
* Improved Security Features
– Rewritten package signing architecture based on ed25519
– Added support for jails
– Added support for hardened builds
* Improved Networking Support
– Added or improved support for lots of 3G/4G modems (MBIM, QMI, NCM, …)
– Added support for 464XLAT (CLAT) [RFC 6877 + RFC 7050]
– Netfilter performance enhancements (conntrack route cache)
– Improved support for self-managing networks [draft-ietf-homenet-hncp]
– Better multi-core support for the network stack
– Improved support for MAP-E, MAP-T and LW4over6 IPv4 transitioning technologies
[draft-ietf-softwire-map, -map-t, -map-dhcp, -lw4over6]
– Improved network auto-setup capable of detecting and bootstrapping IPv4-only,
6rd, Dual-Stack, IPv6-only, DS-Lite, LW4over6, MAP-E, MAP-T, 464XLAT
and combinations without explicit configuration [based on RFC 7084]
– Added support for Smart Queue Management (SQM) QoS, AQM and Traffic Shaping
– Improved support for DNSSEC
* Platform and Driver Support
– Added support for feeds of externally maintained targets
– New mt7621 subtarget for Mediatek 11ac SoC
– New mt76 mac80211 based wifi driver for MTK 11ac cores.
– New mwlwifi mac80211 based wifi driver for the Marvell 88W8864
– New bcm53xx target for Broadcom ARM BCM47xx/53xx devices
– New mxs target for Freescale i.MX23/28 family and various boards
– New sunxi target for AllWinner A10/A13/A20 family and various boards
– brcm2708: support for Raspberry Pi 2
– brcm63xx: support for BCM6318 and BCM63268 family
– brcm63xx: improved fallback sprom support with bcma support

** Improvements since RC 3 **
* Updated 3.18 to 3.18.20
* Security update of openssl to 1.0.2d
* Security update of curl
* brcmfmac: many BCM43602 related fixes
* ar71xx: support more devices
* brcm47xx/bcm53xx: support any NVRAM size
* bcm53xx: basic Netgear R7000 support & R8000 image
** Improvements since RC 2 **
* brcmfmac: support for BCM43602
* mt76: updated version with new firmware support, TX & DMA fixes
* Updated 3.18 to 3.18.17
* Fixed image builder generation
* Various security updates (e.g. openssl, curl)
* Minor fixes
** Improvements since RC 1 **
* Fixed broken ImageBuilders for most targets
* Updated 3.18 to 3.18.14
* Fixed broken IPv6 downstream DHCPv6-PD and onlink-route handling
* Images (special format) for Asus brcm47xx and bcm53xx devices
* Improved stability of sysupgrade on brcm47xx and bcm53xx
* Added HTTPS enforcement option to uhttpd
* Fixed umask issue
* Added support for a few new boards
And lots and lots of other advancements…
As always a big thank you goes to all our active package maintainers, testers, supporters and documenters.
Disclaimer:
Ich übernehme keine Haftung für das Aufspielen der Firmware und stelle sie hier, wie sie ist, zur Verfügung. Auch mache ich mir nicht die Software, welche unter der GPL lizensiert ist, zu eigen.
Jeder sollte sich über die Veränderung an dem Gerät selbst im klaren sein und sich nach gutem Gewissen über diese Veränderungen an seiner Hardware informieren.
Über ein Dankeschön und/oder das Teilen des Artikels freue ich mich natürlich